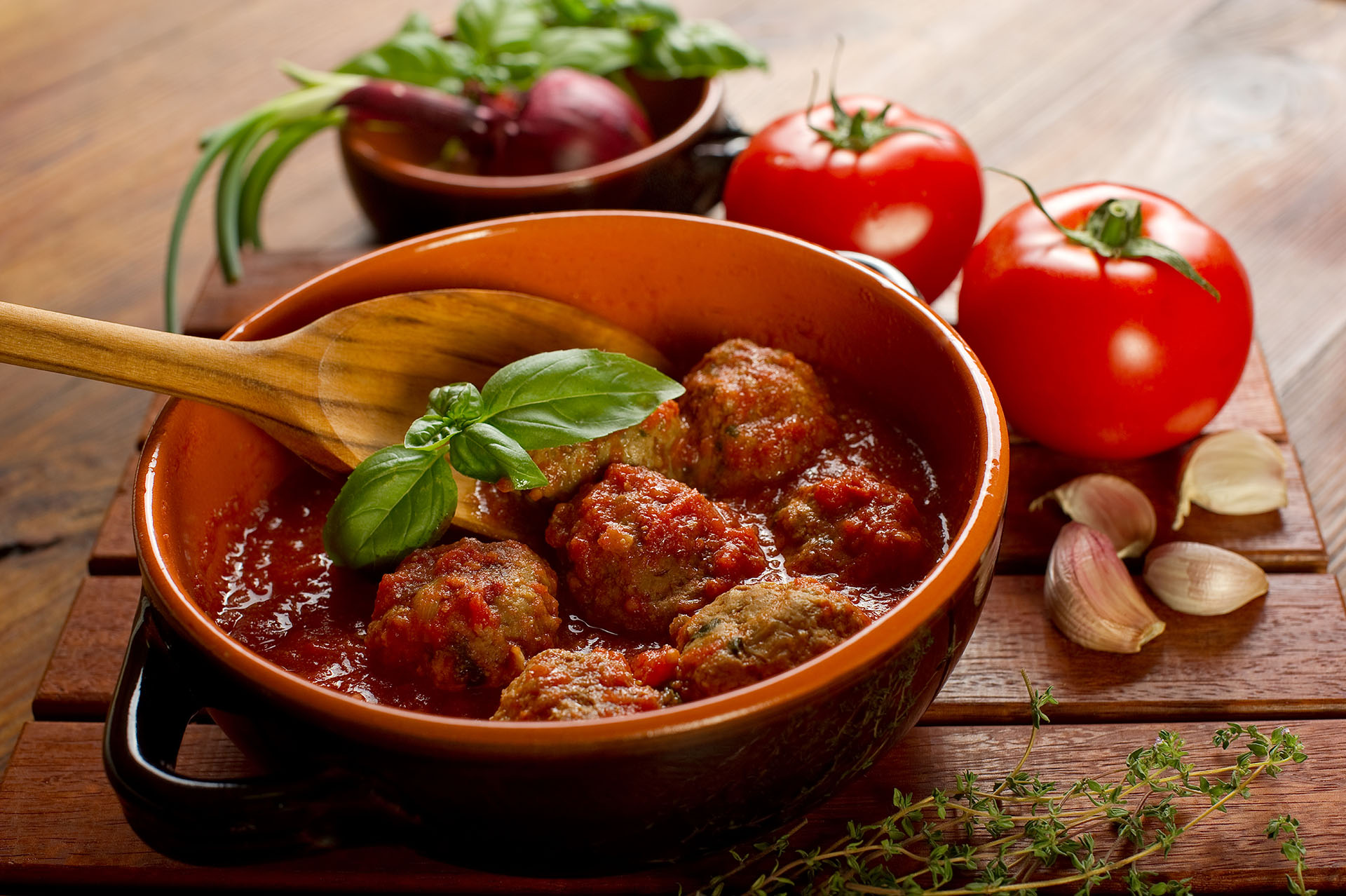 | | |
| --- | --- |
| Difficulty | Medium |
| Doses to | 4 People |
| Preparation  | 35 Minutes |
Meatballs with sauce are a traditional Neapolitan recipe handed down through grandmothers. Unlike the rest of Italy, in Campania are added ingredients such as pine nuts and raisins that enrich the taste of this dish and that immediately brings to mind the image of one's grandmother intent on preparing them on Sunday mornings.
For meatballs
400 gr ground beef

150 gr crumb stale bread

1 egg

80 gr parmesan cheese

1 sprig of parsley

1 clove of garlic Salt to taste.

black pepper q.b.

10 gr butter

60 grams of raisins

20 gr pine nuts

oil for frying q.b.
For the sauce
400 grams of tomato sauce

1 small onion

4 tablespoons extra virgin olive oil (evo)
Preparation
Dip the bread in a container filled with water; squeeze well to remove the water and place it in a bowl with the minced meat. Then add the chopped garlic and parsley. Add the egg, a pinch of salt and freshly ground pepper, hand chopped butter, raisins, pine nuts and season the dough with a generous handful of grated Parmesan. Mix with your hands to mix the ingredients until you get a compact mixture.
To be sure that the dough keeps the shape after preparing the meatballs let them rest for half an hour in the fridge, so that they become compact.
Cooking
In a high pan heat the oil to fry and as soon as it reaches the desired temperature, immerse the meatballs being careful to reach a uniform cooking on all sides; when the meatballs will be golden taken from the pan and laid on a sheet of absorbent paper. Keep the meatballs aside to rest while you prepare the sauce.
In a non-stick pan heat the extra virgin olive oil and add the chopped onion. Sauté, add the tomato puree and salt to taste. Before the sauce is completely reduced, dip the meatballs in the sauce and cook everything together for 10 minutes. Serve the hot meatballs in a bowl.